Goodridge Brake Lines Hoses and Fittings
Classic Kit Range
All kits are now available with classic look hoses.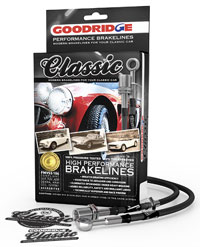 Stainless or plated fittings with vintage look black hose
The brand new release from Goodridge, K300(Goodridge distributor) is pleased to offer the range of Goodridge Classic hoses made to give the retro look on classic cars.
PTFE internal hose and the classic look of a rubber hose.
The Classic kits are available with stainless steel fittings or plated mild steel fittings.
The Classic range is aimed at all classic cars manufactured before 1980.
If you don't see your car listed you can call us and we still may be able to help with hoses specifically manufactured for your vehicle.
If your car is a show car in the vintage or classic range you may not want the more modern look of Goodridge's stainless braided hose but you may require a classic rubber hose look. Now you can have the best of both worlds, retro rubber look but with the advantages of the modern Goodridge hoses.
Stainless Fittings
Manufacturer
Application
Year
AC
Ace/Cobra MkI
1962 - 1963
Alfa Romeo
116
1974-1987
Alfa Romeo
105 Type
1966-1977
Alfa Romeo
2000 GTV 1600.1750,2000
1968 - 1974
Alfa Romeo
2600 Sprint
1964
Alfa Romeo
Alfasud
1972-1985
Alfa Romeo
Alfasud Sprint
1976-1989
Alfa Romeo
Alfetta
1974-1984
Alfa Romeo
Club
Alfa Romeo
GT Junior
1965 - 1977
Alfa Romeo
Guiletta
1954 - 1965
Alfa Romeo
Montreal
1972-1979
Alfa Romeo
Spyder
1966 - 1982
Aston Martin
DB2/4
1953 - 1957
Aston Martin
DB4 GT
1959 - on
Aston Martin
DB6
1965 - 1971
Aston Martin
V8
1969- 1989
Austin
1100/1300 (BMC)
1962 - 1974
Austin
A40 Farina MkII
1961- 1967
Austin
Allegro
1973-1983
Austin
Healey 3000
1959 - 1967
Austin
Maxi
1969-1982
Austin
Morris Marina
1971 - 1980
BMW
2002
1962- 1977
BMW
1502 To 2800CS (Late Models)
1968 - 1977
BMW
1600/1600Ti/2000/2002 (Early Models)
1965 - 1969
BMW
3.0 CSL
1973
BMW
635 CSi
1978 - 1982
BMW
635i
1978 - 1982
BMW
M535i (E12) 4 Line
1980 - 1981
Daimler
(4.2) Coupe
1973-1977
Daimler
SP250 Dart
1959 - 1964
Datsun
240-260Z
1969 - 1978
Datsun
280Z
1978 - 1983
Ferrari
246 Dino
1968- 1976
Ferrari
308 GT4
1973 - 1980
Ferrari
308 GTB/GTS
1975 - 1985
Ford
Anglia 100E
1962
Ford
Capri Mk I
1969 - 1974
Ford
Capri Mk II + III
1974 - 1986
Ford
Capri Mk III 3.0S
1978 - 1982
Ford
Cortina Mk I
1962 - 1966
Ford
Cortina Mk II
1966 - 1970
Ford
Cortina Mk III-V
1970 - 1982
Ford
Escort Mk I
1968 - 1974
Ford
Escort Mk II
1974 - 1980
Ford
Fiesta Mk I
1977 - 1983
Ford
Granada Mk I
1972 - 1977
Ford
Granada Mk II
1979 - 1981
Ford
Zephyr/Zodiac
1956>
Hillman
Imp
1963 - 1976
Honda
Accord Mk I 1600 (1602cc)
1978 - 1981
Honda
S800
1966 - 1970
Jaguar
420 Saloon
1966 - 1968
Jaguar
E-Type SI 3.8/4.2
1961 - 1968
Jaguar
E-Type SII 2+2 4.2
1968 - 1971
Jaguar
E-Type SII 4.2 (Not 2+2)
1969 - 1971
Jaguar
E-Type SIII V12 5.3
1971 - 1975
Jaguar
Mk IX
1961
Jaguar
S-Type
1963 - 1968
Jaguar
XJ12 5.3/HE/6.0
1972 - 1993
Jaguar
XJ6 4.2
1979 - 1986
Jaguar
XJ6 4.2
10/1973 - 1979
Jaguar
XJ6 4.2
09/1970 - 1972
Jaguar
XJS 5.3 V12/Conv. Pre HE
1975 - 1980
Jaguar
XJS 5.3/HE/HE Cat.
1979 - 1991
Jaguar
XK150
1957 - 1961
Jensen
Interceptor 2
1969 - 1971
Jenson
Healey
1972 - 1976
Lamborghini
Countach
1974 - 1990
Land Rover
S1 SWB (80"w/b)
1948 - 1951
Land Rover
SI (SWB)
Land Rover
SII & SIII 109" Metric
1980 - 1984
Land Rover
SII & SIII 88" Metric
1980 - 1984
Land Rover
SII & SIII 88" UNF
1960 - 1980
Land Rover
SIII 109" UNF
1971 - 1980
Lotus
Elan +2
1967 - 1975
Lotus
Elan +2S
Lotus
Elite
1974>
Lotus
Esprit S1
1976 - 1979
Lotus
Esprit Turbo S3
1980-1989
Lotus
Europa
1966 - 1975
Lotus
Super 7 SIII
1969 - 1974
Mercedes
200/300 (All Models) (W123)
1976 - 1985
MG
B & BGT
1962 - 1980
MG
C & CGT
1967 - 1969
MG
Midget Mk II-V
1964 - 1980
Mitsubishi
Lancer Mk I
1974 - 1979
Mitsubishi
Lancer Mk II
1979 - 1982
Morgan
4/4
1964
Morgan
+8
1978 - 1988
Opel
Manta 'B'
1975 - 1988
Pontiac
Transam
Porsche
928
1978 - 1981
Porsche
356 A
1948-1959
Porsche
356 B/C
1959-1966
Porsche
911 2.7/2.7S/3.0
1973 - 1989
Porsche
911 3.0/3.3 Turbo
1973 - 1989
Porsche
911/S
1969 - 1973
Porsche
911/S
1963 - 1968
Porsche
914/4
1970-1976
Porsche
924 2.0 Non-turbo
1977-1988
Porsche
924 Turbo
1977-1988
Range Rover
UNF LWB
>1981
Reliant
Kitten
1975 - 1983
Reliant
Scimitar SE4
1964 - 1970
Reliant
Scimitar SE5
1968 - 1975
Reliant
Scimitar SE6
1975 - 1986
Rover
P5
1958 - 1973
Rover
P6 3500 V8 Saloon
1963 - 1977
Rover
SD1
1976>
Rover
SD1 Vitesse
Saab
96 1500
1974
Saab
99/900
>1987
Sunbeam
Alpine Tiger
1964 - 1967
Talbot
(Sunbeam, Hillman) Avenger
1970 - 1981
Talbot
Sunbeam & Lotus
1977 - 1981
Triumph
GT6 Mk III (Non Rotoflex)
Triumph
GT6 Vitesse Rotoflex
Triumph
Herald
1959 - 1971
Triumph
Herald (Drums All Round)
Triumph
Spitfire 1.5 & Widetrack Mk IV
Triumph
Spitfire Mk I-IV
Triumph
Stag
1970 - 1977
Triumph
TR3
1955 - 1962
Triumph
TR4
1961 - 1965
Triumph
TR7
1975 - 1982
Triumph
Vitesse & GT6 Mk I
TVR
2500 & 3000M
1972 - 1977
TVR
Taimar 3.0L
1976 - 1979
TVR
Tasmin
1980 - 1984
TVR
Tuscan
1969
TVR
Vixen S2
Vauxhall
Viva
1963 - 1979
Volkswagen
Beetle
>1964
Volkswagen
Beetle
1964 - 1967
Volkswagen
Beetle 1302/S
1971 - 1972
Volkswagen
Beetle 1303/S
1973>
Volkswagen
Beetle T1 1200 Drum Front
1967>
Volkswagen
Beetle T1 1300 Disc Front
1967>
Volkswagen
Camper / Bus
1967 - 1970
Volkswagen
Golf Gti Mk 1/Scirocco
1976>
Volkswagen
Golf Gti Mk 1/Scirocco Rear Disc
Volkswagen
Karmann Ghia (Front Discs)
1968 - 1974
Volkswagen
Transporter 2
1956 - 1967
Volkswagen
Transporter 2
1968 - 1970
Volkswagen
Transporter 2
1970 - 1979
Volkswagen
Transporter 2
1979 - 1985
Volkswagen
Variant
Volvo
260/262/264/264
1974 - 1978
Volvo
260/262/264/265
1978>
Volvo
340/343/345/360
1980-1988
Volvo
Amazon
1966 - 1967
Plated Fittings
Manufacturer
Application
Year
AC
Acceca
1954 - 1963
AC
Ace/Cobra MkI
1962 - 1963
Alfa Romeo
116
1974-1987
Alfa Romeo
105 Type
1966-1977
Alfa Romeo
2000 GTV 1600.1750,2000
1968 - 1974
Alfa Romeo
2600 Sprint
1964
Alfa Romeo
Alfasud
1972-1985
Alfa Romeo
Alfasud Sprint
1976-1989
Alfa Romeo
Alfetta
1974-1984
Alfa Romeo
GT Junior
1965 - 1977
Alfa Romeo
Guiletta
1954 - 1965
Alfa Romeo
Montreal
1972-1979
Alfa Romeo
Spyder
1966 - 1982
Alvis
TD21
1958 - 1963
Aston Martin
DB2/4
1953 - 1957
Aston Martin
DB4 GT
1959 - on
Aston Martin
V8
1969 - 1989
Audi
80 1.3-2.0 8v
1980 - 1991
Austin
1100/1300 (BMC)
1962 - 1974
Austin
A40 Farina MkII
1961- 1967
Austin
Allegro
1973-1983
Austin
Healey 100/4
1954
Austin
Healey 3000
1959 - 1967
Austin
Healey BN7
1959 - 1963
Austin
Maxi
1969-1982
Austin
Mini - Metro Conversion (Fronts)
N/A
Austin
Mini (Drum/Drum)
1967-1984
Austin
Mini Cooper Mk2
1968 - 1991
Austin
Morris Marina
1971 - 1980
Austin
Morris Minor
1956 - 1971
Austin
Princess
1976-1982
BMW
2002
1962- 1977
BMW
3.0 CSL
1973
BMW
635 CSi
1978 - 1982
BMW
635i
1978 - 1982
BMW
M535i (E12) 4 Line
1980 - 1981
Bond
Equipe
1963 - 1970
Chevrolet
Corvette
1963 - 1982
Citroen
C15D (1.8)
1977 - 1984
Citroen
Visa (1.1)E/RE
1980 - 1981
Citroen
Visa (1.1)Super
1979 - 1980
Citroen
Visa (1.1)Super E
1980 - 1981
Citroen
Visa 650 Club/Special
1979 - 1985
Daimler
(4.2) Coupe
1973 - 1977
Daimler
250 V8 Saloon
1967 - 1967
Daimler
Double Six (5.3/6.0)
1972 - 1981
Daimler
Limo
01/1969 - 1978
Daimler
Limo
02/1978 - 1992
Daimler
Sovereign S2
1976
Daimler
SP250 Dart
1959 - 1964
Datsun
240-260Z
1969 - 1978
Datsun
280Z
1978 - 1983
De Tomaso
Pantera
1971>
Ferrari
246 Dino
1968- 1976
Ferrari
275 GTB
1965
Ferrari
275 GTE
1965
Ferrari
308 GT4
1973 - 1980
Ferrari
308 GTB/GTS
1975 - 1985
Ferrari
350GT 2+2 250GT
1953 - 1964
Ferrari
365GT 2+2
1968 - 1970
Ferrari
512BB
1976 - 1981
Ferrari
Boxer
1973 - 1984
Fiat
127.857142857143
>1986
Fiat
133
1974 - 1982
Fiat
124 Sport Coupe
1967 - 1976
Fiat
125 1600
1967 - 1972
Fiat
126 (All Models)
1972-2000
Fiat
127 1050 Sport/1300GT
1971 - 1983
Fiat
128 3P
1977 - 1979
Fiat
850 & 850 Coupe
1964-1972
Fiat
850 Spyder
1965-1972
Fiat
850T
1964 - 1973
Fiat
A112 Arbarth
1971 - 1976
Fiat
Bertone X1/9 1.3 & 1.5
1972 - 1989
Fiat
Fiorino (127) 900/1050
1977-1987
Ford
Anglia 100E
1962
Ford
Capri Mk I
1969 - 1974
Ford
Capri Mk II + III
1974 - 1986
Ford
Capri Mk III 3.0S
1978 - 1982
Ford
Cortina Mk I
1962 - 1966
Ford
Cortina Mk II
1966 - 1970
Ford
Cortina Mk III-V
1970 - 1982
Ford
Escort Mk I
1968 - 1974
Ford
Escort Mk II
1974 - 1980
Ford
Fiesta Mk I
1977 - 1983
Ford
Granada Mk I
1972 - 1977
Ford
Granada Mk II
1977 - 1979
Ford
Granada Mk II
1979 - 1981
Ford
Zephyr/Zodiac
1956>
Ginetta
G15
1969>
Hillman
Imp
1963 - 1976
Honda
Accord Mk I 1600 (1602cc)
1978 - 1981
Honda
Civic Rr.Drum
1976 - 1979
Honda
Civic Rr.Drum
1979 - 1983
Honda
S800
1966 - 1970
Jaguar
240 & 340
1967 - 1969
Jaguar
420 Saloon
1966 - 1968
Jaguar
Daimler Majestic
1958 - 1962
Jaguar
E-Type SI 3.8/4.2
1961 - 1968
Jaguar
E-Type SII 2+2 4.2
1968 - 1971
Jaguar
E-Type SII 4.2 (Not 2+2)
1969 - 1971
Jaguar
E-Type SIII V12 5.3
1971 - 1975
Jaguar
Mk II
1959 - 1967
Jaguar
Mk II 2.4/3.8S
1964
Jaguar
Mk IX
1961
Jaguar
Mk VII
1952
Jaguar
S-Type
1963 - 1968
Jaguar
XJ12 5.3/HE/6.0
1972 - 1993
Jaguar
XJ6 2.8
09/1969 - 1972
Jaguar
XJ6 2.8
10/1972 - 1973
Jaguar
XJ6 3.4
1975 - 1979
Jaguar
XJ6 3.4
1979 - 1986
Jaguar
XJ6 4.2
09/1970 - 1972
Jaguar
XJ6 4.2
10/1972 - 09/1973
Jaguar
XJ6 4.2
10/1973 - 1979
Jaguar
XJ6 4.2
1979 - 1986
Jaguar
XJS 5.3
1975 - 1979
Jaguar
XJS 5.3 V12/Conv Pre HE
1975 - 1980
Jaguar
XJS 5.3/HE/HE Cat.
1979 - 1991
Jaguar
XK120
1948 - 1954
Jaguar
XK140
1954 - 1957
Jaguar
XK150
1957 - 1961
Jaguar
XJSC 3.6/5.3 V12/Cat.
1983 - 1987
Jensen
Interceptor 2
1969 - 1971
Jenson
Healey
1972 - 1976
Jenson
Interceptor 3
1971 - 1976
Lada
1200/1300
1970 - 1988
Lamborghini
Countach
1974 - 1990
Lamborghini
Miura
1966 - 1973
Lancia
Beta Coupe/HPE/Spyder
1972 - 1984
Lancia
Monte Carlo
1975 - 1981
Lancia
Stratos
1972 - 1974
Land Rover
S1 SWB (80"w/b)
1948 - 1951
Land Rover
SI (SWB)
Land Rover
SII & SIII 109" Metric
1980 - 1984
Land Rover
SII & SIII 88" Metric
1980 - 1984
Land Rover
SII & SIII 88" UNF
1960 - 1980
Land Rover
SIII 109" UNF
1971 - 1980
Lotus
Elan +2
1967 - 1975
Lotus
Elan +2S
Lotus
Elan S1-S4
Lotus
Elan Sprint
Lotus
Elite
1974>
Lotus
Esprit S1
1976 - 1979
Lotus
Esprit Turbo S3
1980-1989
Lotus
Europa
1966 - 1975
Lotus
Super 7 SIII
1969 - 1974
Matra
Murena 2.2
1980 - 1983
Mercedes
200/300 (All Models) (W123)
1976 - 1985
MG
A 1500
1955 - 1959
MG
A 1600 Mk I
1959 - 1960
MG
A Twin Cam
1958 - 1960
MG
B & BGT
1962 - 1980
MG
C & CGT
1967 - 1969
MG
Midget Mk I
1961 - 1964
MG
Midget Mk II-V
1964 - 1980
Mitsubishi
Lancer Mk I
1974 - 1979
Mitsubishi
Lancer Mk II
1979 - 1982
Morgan
+8
1974 - 1978
Morgan
+8
1978 - 1988
Morgan
4/4
1964
Nissan
(Datsun) Sunny
Opel
Ascona (All Models)
1977
Opel
Kadett 'C' (Disc/Drum)
1977 - 1979
Opel
Manta 'B'
1975 - 1988
Peugeot
504
1968-1984
Pontiac
Transam
Porsche
356 A
1948-1959
Porsche
356 B/C
1959-1966
Porsche
911 2.7/2.7S/3.0
1973 - 1989
Porsche
911 3.0/3.3 Turbo
1973 - 1989
Porsche
911/S
1963 - 1968
Porsche
911/S
1969 - 1973
Porsche
914/4
1970-1976
Porsche
924 2.0 Non-turbo
1977-1988
Porsche
924 Turbo
1977-1988
Porsche
928
1978 - 1981
Range Rover
UNF
>1981
Range Rover
UNF LWB
>1981
Reliant
Kitten
1975 - 1983
Reliant
Scimitar SE4
1964 - 1970
Reliant
Scimitar SE5
1968 - 1975
Reliant
Scimitar SE6
1975 - 1986
Renault
8
1962-1972
Renault
4CV
1954
Renault
5 Gordini Turbo 4 Line
1982 - 1984
Renault
5 Gordini Turbo 6 Line
1982 - 1984
Renault
Alpine A110
1961 - 1977
Renault
Alpine A310 V6 (Plated Only)
1971 - 1984
Rover
P6 2000 TC
1963 - 1973
Rover
P5
1958 - 1973
Rover
P6 3500 V8 Saloon
1968 - 1977
Rover
SD1
1976>
Rover
SD1 Vitesse
Saab
96 1500
1974
Saab
99/900
>1987
Skoda
Estelle 105 & 120
1976 >
Sunbeam
Alpine Tiger
1964 - 1967
Talbot
(Sunbeam, Hillman) Avenger
1970 - 1981
Talbot
Samba
1981 - 1986
Talbot
Sunbeam & Lotus
1977 - 1981
Triumph
2500S
1975 - 1977
Triumph
Dolomite Sprint 2.0 16V
1973 - 1980
Triumph
GT6 Mk III (Non Rotoflex)
Triumph
GT6 Vitesse Rotoflex
Triumph
Herald
1959 - 1971
Triumph
Herald (Drums All Round)
Triumph
Spitfire 1.5 & Widetrack Mk IV
Triumph
Spitfire Mk I-IV
Triumph
Stag
1970 - 1977
Triumph
TR3
1955 - 1962
Triumph
TR4
1961 - 1965
Triumph
TR4A I.R.S.
1965>
Triumph
TR5/TR6 pi
1967 - 1976
Triumph
TR7
1975 - 1982
Triumph
Vitesse & GT6 Mk I
TVR
2500 & 3000M
1972 - 1977
TVR
Taimar 3.0L
1976 - 1979
TVR
Tasmin
1980 - 1984
TVR
Tuscan
1969
TVR
Tuscan V6
1971
TVR
Vixen S2
Vauxhall
Astra Mk 1 1.2/1.3 *Early*
1980 - 1982
Vauxhall
Astra Mk 1 1.2/1.3 *Late*
1980 - 1982
Vauxhall
Chevette 1256cc
1975 - 1984
Vauxhall
Viva
1963 - 1979
Volkswagen
Beetle
>1964
Volkswagen
Beetle
1964 - 1967
Volkswagen
Beetle 1302/S
1971 - 1972
Volkswagen
Beetle 1303/S
1973>
Volkswagen
Beetle T1 1200 Drum Front
1967>
Volkswagen
Beetle T1 1300 Disc Front
1967>
Volkswagen
Camper / Bus
1967 - 1970
Volkswagen
Golf Gti Mk 1/Scirocco
1976>
Volkswagen
Golf Gti Mk 1/Scirocco Rear Disc
Volkswagen
Golf Mk 1 (with Teeves Calipers)
Volkswagen
Transporter 2
1956 - 1967
Volkswagen
Transporter 2
1968 - 1970
Volkswagen
Transporter 2
1970 - 1979
Volkswagen
Transporter 2
1979 - 1985
Volkswagen
Van LT28/31/35
1975 - 1982
Volkswagen
Van LT40/45/50
1978 - 1982
Volkswagen
Variant
Volvo
122S
1962 - 1963
Volvo
240 (All Models)
1974-1993
Volvo
240 Tandem
Volvo
242/244/245
1974 - 1978
Volvo
242/244/245
1978>
Volvo
260/262/264/264
1974 - 1978
Volvo
260/262/264/265
1978>
Volvo
340/343/345/360
1980-1988
Volvo
Amazon
1966 - 1967